Flexrow for timber logistics

Forestry needs to develop transport vehicles with lower energy consumption. Among other things this can be done by improving the vehicles' aerodynamics. The air resistance of unloaded timber trucks and timber trains can be significantly reduced if stakes and banks are put together.
Flexrow technology means that heavy and dangerous manual steps when changing banks and stakes on timber vehicles can eliminated. The adjustment can be performed from the cab via keystrokes.

Flexibility
Vary the positioning of the bundles and stakes in a fast and efficient way from truck cabin

Lower fuel consumption
Reducing high air resistance via bundling bundles and stakes

Long stroke
Up to ten meter actuation for individual positioning bundles and stakes

Lower operating cost
Lowering fuel consumption and operation time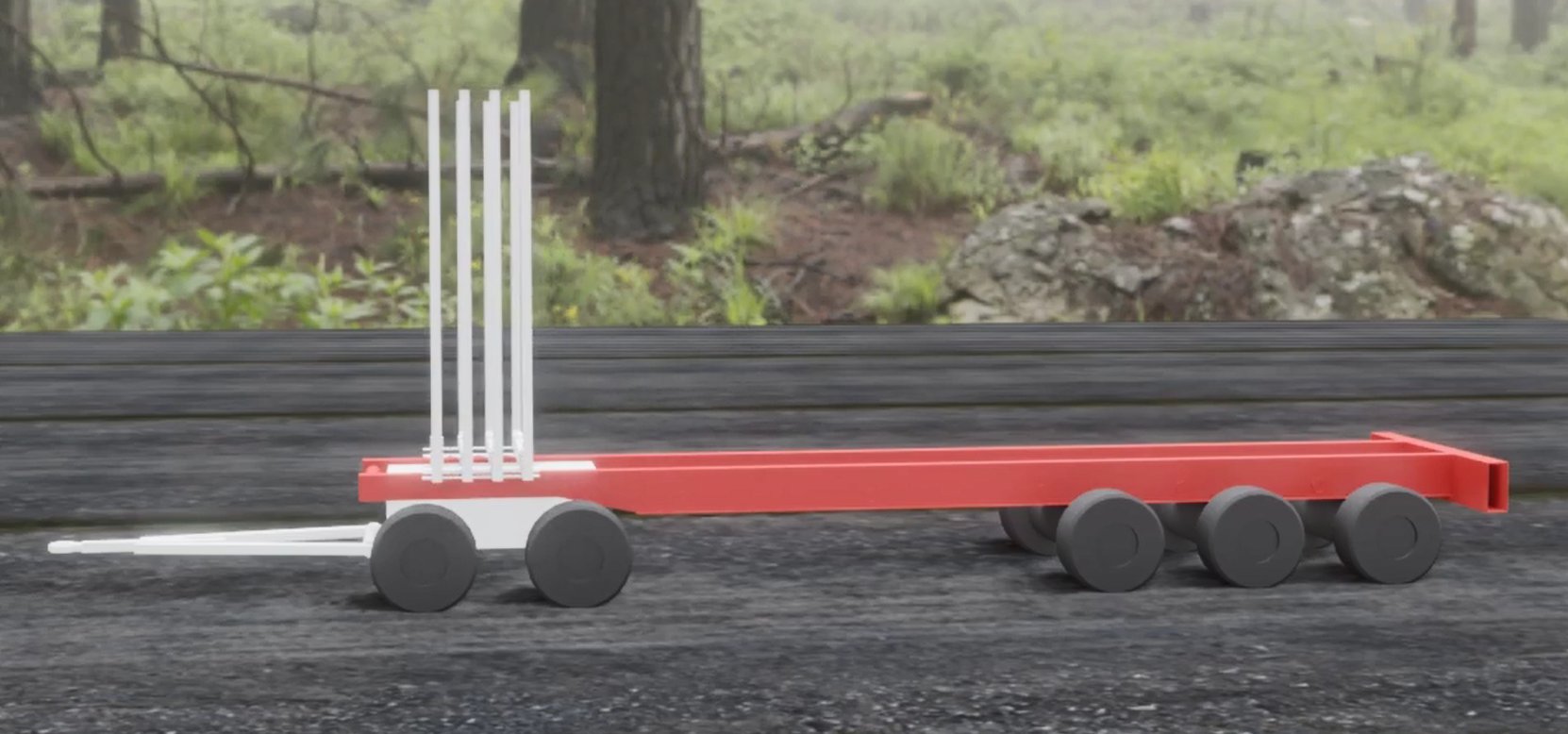 With the Flexrow technology, several heavy bank elements on a timber vehicle can be positioned individually with high locking force, using a simple control system, see figures below.
Today, there is no other technology on the market that can meet these qualifications.
The advantages of the Flexrow technology integrated in a towing vehicle or trailer
Stowing of banks and stakes for better aerodynamics
The assembly of banks and stakes to one point on the trailer or behind the cab of the towing vehicle, will reduce air drag, and fuel consumption and carbon dioxide emissions by about 5%.

Bank shifting
Most timber vehicles that load with their own crane need to be able to move the rear stack of the trolley forward during loading. This bank shifting is done with a long stroke hydraulic cylinder. This can be solved just as well, but only with a halved weight using the Flexrow actuator in comparison with today's bank shifters.
Enable different bank and stack combinations
With the Flexrow actuator, it will be easy to switch to bank combinations for different lengths of wood. The combinations are based on the number of stacks and the length of wood on each stack. This is especially important when the length of wood on a stack is to be changed from 2.6 to 6 m. Timber trailers can have up to eight banks, which enables four stacks of short timber.
A large amount of banks leads to higher air drag and increased manual work when the banks are to be converted to fewer stacks. There is also risks in the working environment when this adjustment is done manually, especially in stressful situations.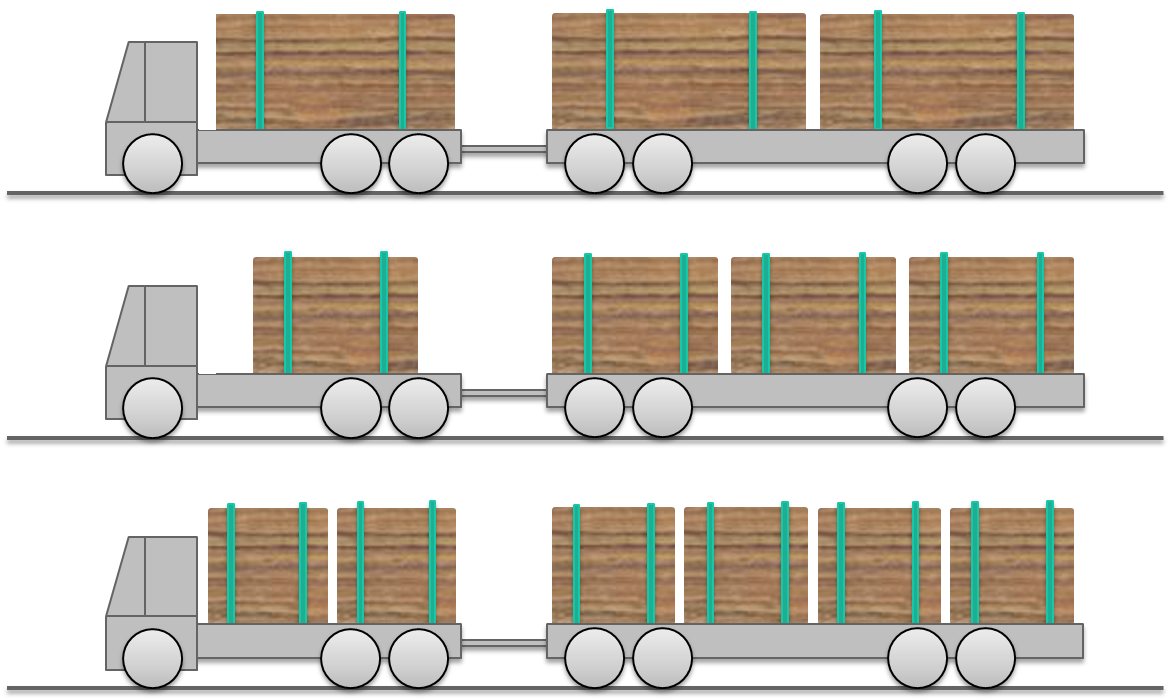 With Flexrow actuator technology, adjustment between 2, 3 and 4 stacks combinations can be done smoothly simply with a push of a button in the cab. This saves time and creates a better working environment.
Adjustable center of gravity
Center of gravity balancing of stacks is important to get the right weight distribution and avoid overloading any shoulder group.
Gap-filling
Minimizing gap between stacks, so-called gap filling, has two purposes; 1. to reduce the air resistance of a loaded vehicle, and 2. to improve the torsional rigidity of the trailer. The latter can be done by pressing the two stacks of the trailer together so that they go into each other and partially hook together.
Easier inspection
Flexrow can be used to disassemble stacks during inspection for example to find rot. For measurement of timber volume and quality control, it is important to have a certain distance between the stacks to be able to go in and measure with, for example, cameras.
Easier to turn
When banks and stakes are assemblied in the middle of the trailer it will be easier to turn the vehicle in the woods. The risk of the stakes getting caught in trees and branches is thus reduced.
Allows for supplementary cargo
Supplementary freight flow for timber and container transport lead to savings with respect to time, costs and climate impact. With the HILA technology, towing vehicles and trailers can easily be rebuilt to carry 20´-30´ containers (also applies to trains). This will create opportunities for valuable complementary freight flow and large savings with respect to time, costs and climate impact.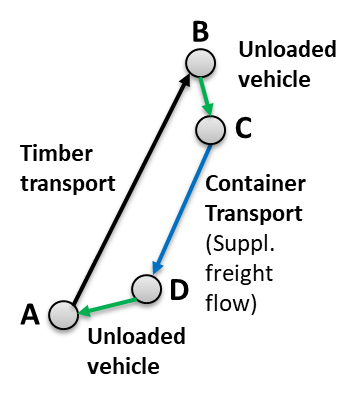 Use on timber trains
Assembly of banks and stakes on unloaded high speed timber trains can radically reduce air resistance and reduce energy consumption and in some cases also carbon dioxide emissions.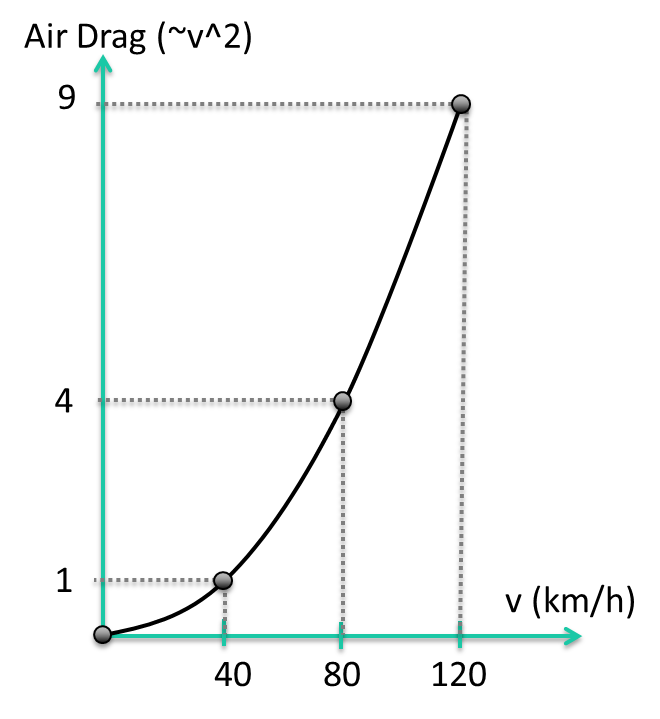 Background
Unique characteristics of the Flexrow actuator are the long strokes, the high system pressure and a compact and light actuator solution. It can be implemented in demanding environments, especially in mobile applications, where there presently are no alternative solutions.
In contrast to ordinary ball screws or rack and pinion, Flexrow actuators also fit in applications used in tough environments, as forests, agriculture and mining. In comparison with conventional long-stroke hydraulic cylinders, Flexrow can offer shorter, more compact and easier-to-place actuator solutions with long strokes.
Flexrow is built on robust and cost-effective standard components. The technology is best suited for relatively slow movements and situations where the movement pattern is well known.
Another advantage is that the system's need for hydraulic oil is only a fraction of what an ordinary hydraulic cylinder would require at the same stroke. Since the piston products in the cylinders are symmetrical. There is only marginal variation of the volume of oil in the system during feeding. The total volume of oil to minimal leakage of environmentally hazardous hydraulic oil into the vehicle.
Vinnova project - High efficient actuator for greener timber trucks
In this project a working Flexrow prototype will be developed for a timber logistics demonstrator. This is a collaboration within a Vinnova project. The members of the project are
Landberg Solutions
GN Tech
ExTe
Parator
Fröjds Åkeri
Linköping University
Skogforsk